All facts summed up:
In total, Hotel Amsterdam Zuidas has 9 luxurious and comfortable rooms, where you will lack nothing. The meeting-room surfaces vary from 49m2 to 331m2 with a maximum capacity of approx. 300 people. Our rooms are equipped with the latest equipment, such as a projector with projection screen, microphone, high-speed WiFi, meeting supplies, individually adjustable climate control and plenty of natural daylight through the large floor-to-ceiling windows.
Click on the floor plan to get an overview of the floor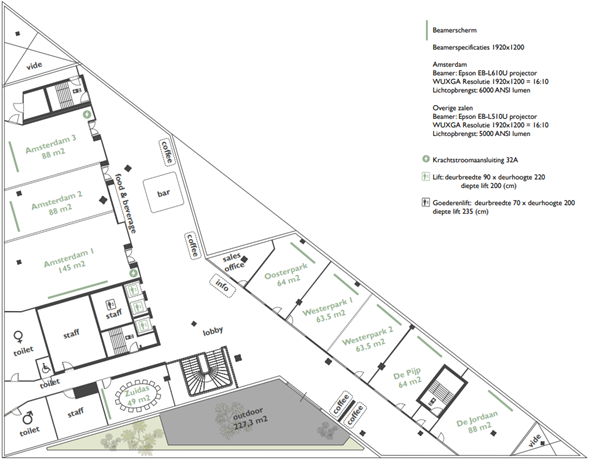 In between your meetings you will be able to relax in our attractive break-out, where you will find coffee and tea facilities and a refreshing beverage buffet. In addition, you can use our roof terrace on both the 5th and 6th floors of our hotel. Of course our team will be around in case you have any further questions.
Are you interested in discussing the possibilities with us? Feel free to contact us without any obligations, so that we can discuss your wishes and preferences and make you a proper quotation.
Contact us
Van der Valk Hotel Amsterdam Zuidas
Tommaso Albinonistraat 200
1082HM Amsterdam


Sales department
Tel +31(0)20 8000 902
sales@zuidas.valk.nl